About us
The speakers on the DVD "From Minus to Plus" are the world-famous evangelists Reinhard Bonnke and Daniel Kolenda. Their ministry is founded on the heart-felt longing to call people to personal salvation in Christ Jesus.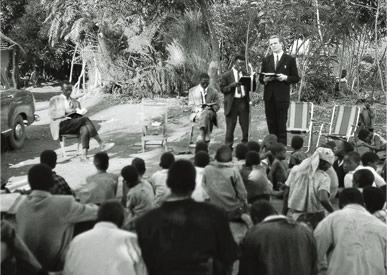 Reinhard Bonnke, a pastor's son, was born in 1940 in Königsberg and heard the call to the African mission field when he was just a boy.
In 1967 he, his wife Anni and their son Kai-Uwe set off for the independent mountain kingdom of Lesotho in southern Africa, where he was to work as a missionary. It was many years, however, before his missionary activities took on greater dimensions and he began to hold meetings in huge tents and then in the open air.
The evangelistic meetings held by the international mission organisation Christ for all Nations (CfaN), which was founded in 1974, did not stop growing. Today CfaN's ministry is still characterised by wonderful answers to prayer and amazing healings, signs and wonders.